A tearful Julia Perez has been given a prison sentence of three months for being found guilty of bashing fellow dangdut singer Dewi Perssik.
Luckily for her, she won't actually have to go to prison. The sentence is probationary and as long as she stays out of trouble she should remain a "free" (?) woman.
The verdict was lighter than the prosecutors' demand of six months.
Although the presiding judge for the case said there were a number of alleviating factors that reduced Julia's sentence, being Indonesia's number one sexbomb was apparently not one of them.
The rivalry between the two sex symbols intensified in November last year during the filming of "Arwah Goyang Karawang" ("The Dancing Ghost of Karawang"), a typical Indonesian horror cum skin-flick combo, in which they both starred.
The scenes of wild fighting between the two girls, in which they were pulling each other's hair out and slapping and scratching each other like wild kittens, actually proved to be good promotion for the film and many thought it must have been a publicity stunt put on by the filmmakers.
But apparently not.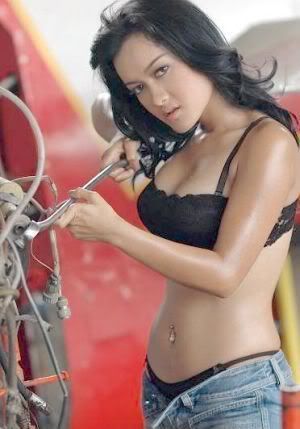 If Jupe can stay out of trouble she will remain a free woman