The innocent and the beautiful have no enemy but time.

>Yeats
When I first featured Jennifer Dunn on this blog she was a mere spring chicken in the world of Indonesian celebrities: a delightful morsel it must be said, yet clearly no match for the likes of
Julia Perez
or
Ratu Felicia
.
Yet time moves on and Jennifer Dunn has come of age; this delicate flower blooming in the most spectacular way imaginable: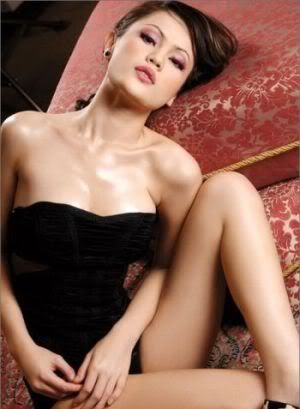 But it's from behind that Jennifer reveals her true character:
A mind blowing sight I'm sure you'll agree. But wait a sec – what the heck are those marks on her calves? And my God – is that what I think it is on her upper back…
… a lot like David Beckham's pair of wings - albeit without the cross!