Maylaffayza is a pop-classic-crossover female violinist. The songs she plays on cover a range of musical styles, from R&B and Indonesian pop to hip-hop and even rap. On some compositions she also sings.
She is also very very sexy. Because what Tiara Lestari is to kampung chic, the elegant and sophisticated Maylaffayza is to Jakarta high society:
Just look at those lines! (and it ain't the violin I'm talking about either!)
And that's not the only thing the two have in common.
Cos like Tiara, Maylaffayza also maintains a blog!
Hers is accessible
here.
And well worth a visit too – especially for the extensive photo gallery which includes some great shots - including some of her as a catwoman without ears and whiskers (and without a bra by the looks of it!)
She also claims – rather incredulously in my opinion - that she doesn't have a boyfriend. Well, she must be beating her suitors away with that bow of hers, is all that I can say!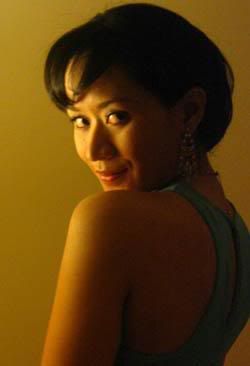 Maylaffayza: back off!