Second-rate singer Angel Lelga hit the headlines for marrying an aging timber tycoon from Kalimantan old enough to be her father. Now it could be that she is attracted to older men of course. Or it could be that she is attracted to their money. Now I wonder which it is? Hmm…
But whatever the reason, she is certainly willing to put up with a bum deal. Cos in a truly bizarre arrangement, she will apparently have to share him with his three other wives including his third wife, the incredibly sexy dangdut singer Cucu Cahyati.
But lovely Angel ain't no stranger to controversy of course. After all, she had been married to the aging dangdut legend Rhoma Irama until they went their separate ways. Let's just hope she has better luck this time.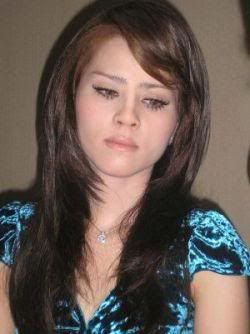 Angel Lelga: no wonder she looks sad - she'll have to share her man with three others!