After
Andhara Early
's artistic yet sensual photoshoot for the Indonesian version of the world's most famous men's magazine, it seems that Indonesian celebrities and models are lining up to follow in her footsteps.
First there was
Inul Daratista
, who for a short time was probably the most talked about person in Indonesia because of her infamous hip-gyrating dance called "the drill".
But Indonesians soon tired of her titillating exploits and she is now clearly desperate to do anything to get back in the public eye.
No wonder then that she wants the chance to get some much-needed publicity.
However, the interest shown by the ravishingly gorgeous Rossa Roslaina Handiyani comes as much more of a surprise.
But the publishers of P'boy should definitely take her up on her offer.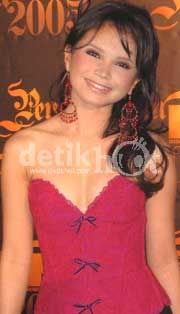 Cos with assets like those, she's sure to be a big hit…