Since Playboy confirmed that it would start to publish an Indonesian version of the world's most famous men's magazine in March there has been huge speculation in Jakarta as to whom the first playmate of the month will be.
Let's look at a few of the likely contenders.
1)
Indah Ludiana
A very strong candidate. Especially as she was invited by Playboy to do some modeling work in the States a few months ago. This could be a mere coincidence, of course, but it could also be that the photoshoot was being done for the first Indonesian Playboy edition. But then again wouldn't Playboy Indonesia want to shoot in an Indonesian setting rather than overseas for its first edition?
2) Tiara Lestari
As she has already posed for both Playboy and Penthouse, she seems a likely contender even if she has denied any interest in wanting to pose for Playboy Indonesia. Speculation has increased however after it came to light that she had visited Bali for a holiday at the beginning of the year - and done some photomodeling while she was there.
3) Pamala Indah
Not to be confused with Indah Ludiana, this busty beauty would definitely be a good choice, especially since she has the sort of confident personality to suggest that she wouldn't be too shy to pose for Playboy.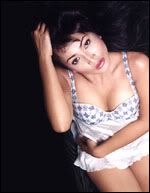 But who will it be? Only time will tell…