No, it's not
Indah Ludiana
. Or
Sarah Azhari
. Or even the irascible Tiara Lestari.
Because the playmate for the Indonesian first edition of Playboy is none other than Andhara Early!
But who is she?, I can hear you say.
Well, I haven't a clue.
Perhaps she's an aspiring actress. Or they may have talent-spotted her at some university campus.
But what about the Indonesia magazine itself?
Well, although the cover is definately a disappointment by Playboy's normally very high standards - the inner pages are much more revealing.
In one shot, Andhara is stripped down to her undies, in an extremely risque position involving a sofa and a few cucumbers.
Well maybe not the cucumbers!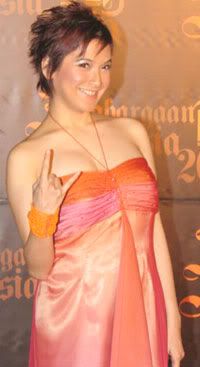 You know where you can stick this!